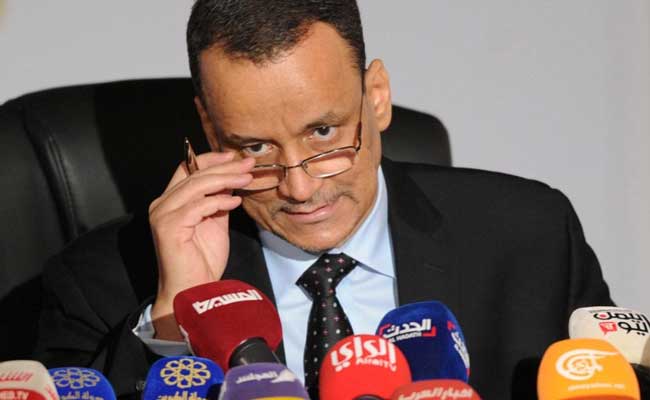 KUWAIT CITY: 
The UN special envoy for Yemen announced the end of peace talks on Saturday without any major breakthrough, but also said a new round of negotiations would begin after one month.
The announcement came as fighting intensified around the capital Sanaa and after the rebels named members of a controversial political council.
"We will be leaving Kuwait on Saturday but the Yemeni peace talks are continuing," Ismail Ould Cheikh Ahmed told a press conference.
He said he will hold bilateral consultations with the two delegations in the coming few weeks to work out details of a peace plan.
He also said the two sides have committed to resume "direct talks within a month at a venue to be agreed upon".
Kuwait remains a possible location for the next round, he said.
"We have guarantees and commitments from the two sides that they are ready to return to the negotiating table," he said.
Although the talks that began April 21 made no headway, Ould Cheikh Ahmed refused to call the process a failure.
"In fact, we have not failed. We believe the Kuwait talks made great progress," he said without elaborating.
It was the third round of negotiations to fail to end a bloody armed conflict in the impoverished Arab nation that the UN says has so far killed at least 6,400 people.
The first two rounds were last year in Switzerland.
Last week, the UN envoy presented a peace plan calling for the withdrawal of rebels from the capital and the handover of heavy arms.
The government delegation accepted the plan but the rebels rejected it, saying it is partial and they want a comprehensive settlement.
The end of the talks came just hours after the rebel Shiite Huthis and forces loyal to their ally, former president Ali Abdullah Saleh, appointed a council to govern Yemen.
Ould Cheikh Ahmed condemned the move.
"We condemn any unilateral steps. These do not serve the Yemeni people or the peace process," he said when asked to comment.
The rebels announced the council's creation on July 28, shortly before rejecting the UN peace plan.
The Iran-backed Huthis overran Sanaa in late 2014 before moving into other parts of Yemen, prompting a Saudi-led coalition to intervene in March last year.
Fighting intensified on Saturday as government forces tried to push closer to the capital.
Military and medical sources said 12 members of the government forces and 23 rebels were killed in fighting in which Saudi-led coalition warplanes also took part.
"We have launched a military operation to regain what remains of Naham (province) and advance on Sanaa," said military spokesman Mohsen Kasruf.
There were also reports of fighting around the northern province of Al-Jouf.
[Source  NDTV]