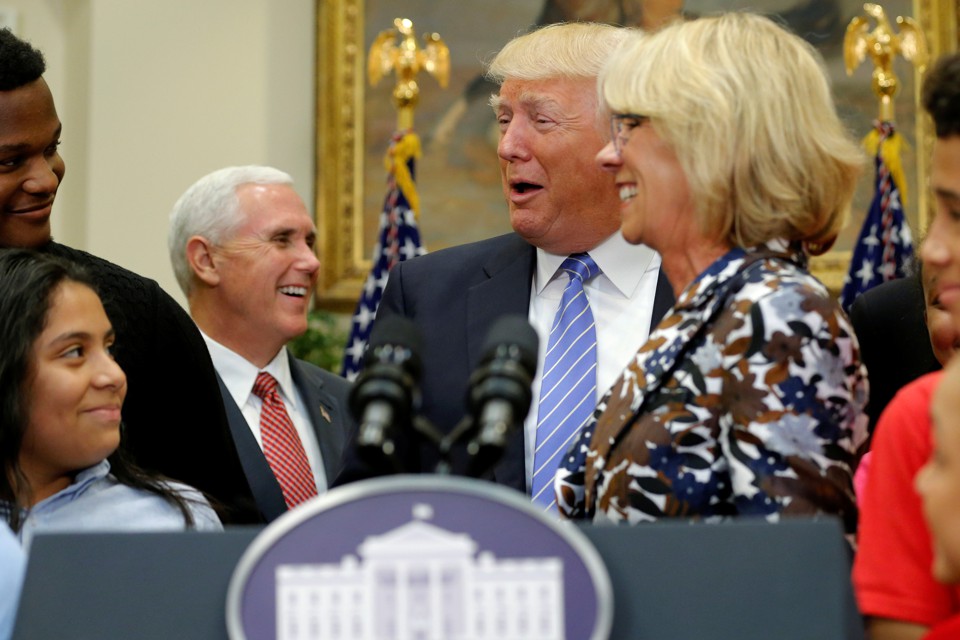 Many of the spending goals outlined in Donald Trump's proposed education budget reflect his campaign rhetoric. The president, who has long called for reducing the federal government's role in schools and universities, wants to cut the Education Department's funding by $9.2 billion, or 13.6 percent of the budget approved by Congress last month. The few areas that would see a boost pertain to school choice, an idea that Trump and Education Secretary Betsy DeVos have repeatedly touted as a top priority. In the White House's spending proposal, hundreds of millions of the dollars would go toward charter-school and voucher initiatives, while another $1 billion in grants would encourage states to adopt school-choice policies.
But other aspects of Trump's funding plan fly in the face of his past statements on education, raising confusion about his priorities. He wants to cut state grants for career and technical education (CTE), for example, by $168 million, and nearly halve funding for the roughly-$1 billion federal work-study program, according to The Washington Post and other outlets. Both CTE and work-study are education models that enjoy broad bipartisan support and are particularly palatable to Republicans and the white, working-class voters who clinched Trump's election. Tellingly, there's little consensus between Trump's spending proposal and the bipartisan appropriations bill unveiled by Congress earlier this month.
Trump's education budget, which will be published Tuesday as part of full spending plan's release, would reduce or eliminate nearly two dozen programs. A spokesman on Friday said the department wouldn't comment on the budget until it was released by the Office of Management and Budget. The final version reiterates many of the funding priorities outlined in the  "skinny"—i.e., preliminary—budget released in March, which had already made it clear that Trump wanted to get rid of the relatively small education programs that, in the eyes of the administration, lack the evidence and reach needed to prove they're worthy of investment. The congressional deal struck at the beginning of this month to keep the government running into September, on the other hand, maintains level funding for many of the education programs Trump wants to do away with or trim down.
Tamara Hiler, a senior policy adviser at the centrist think tank Third Way, described the White House budget as "tone deaf," pointing to the $1.3 billion program that provides grants to states for career and technical education as an example. "The fact that [Trump] would want to move money away from … career and technical education into something that is not even going to benefit many of his voters is befuddling," she said, alluding to the limited access to school choice in the rural communities that helped secure the president's victory.
Indeed, CTE dovetails neatly with Trump's "Make America Great Again" message, and with his campaign promise to prioritize workforce development and job creation in the United States. Take his priorities around infrastructure: CTE is helping to grow the workforce that's key to making those goals a reality, from programs in design and engineering to those in construction and manufacturing. "These are the very elements of the rebuilding-America agenda," said Kimberly Green, the director of the advocacy group Advance CTE, and "are the very things CTE programs help prepare people for successful careers in." DeVos for her part emphasized the importance of CTE throughout her confirmation hearing—perhaps because it serves as an effective example of school choice.
Once known as vocational education, CTE today is often marketed as a practical, skills-focused path into the workforce for high-schoolers, particularly those who aren't interested in the traditional college experience. Research on its impact is mixed, though recent studies suggest that program quality is improving—and that it's a worthwhile option for students who are drawn to technical fields, including those who might otherwise be at risk for dropping out. A study published last year by the right-leaning Fordham Institute, for example, found that students in Arkansas who participated in a concentrated
[Source"timesofindia"]