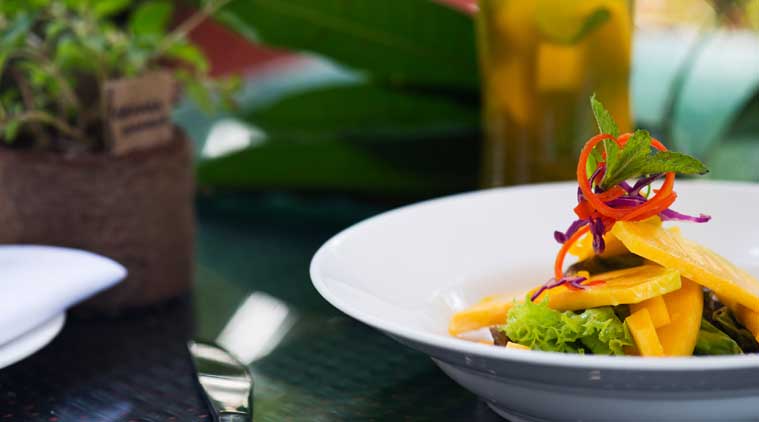 There is no respite from the summer heat, at least for the coming few month, and it is natural to look options for light meals. And what could be better than some fresh, easy to make and healthy salads. We bring you 5 colorful salads that top our list of DIY recipes for summer meals. By including a variety of seasonal ingredients, they are a nutritional powerhouse.
#1 Raw papaya, runner beans, shallots & coriander leaf with cracked peanuts & burnt chili 
From Lodi The Garden Restaurant
"This salad goes perfect to beat the summer heat. The ingredients used are best to keep body temperature cool in this weather. The ingredients papaya, runner beans, shallots and coriander leaves are mixed in a raw form with a dressing of cracked peanut, chilli and lemon juice to make it taste exotic. Using raw fruits and vegetables is a powerful as it is full of essential nutrients and enzymes to promote digestive health," says Elam Singh Rana, Executive Chef, Lodi The Garden Restaurant.
Recipe
Raw Papaya Salad for 4 portions
Ingredients
1/3 Cup lime Juice
1 clove garlic minced
1 Tea Spoon Sugar
Red Chilies (To taste)
Salt to taste
500g green papaya grated
150g tomatoes cut into bite-size pieces
50g green beans fine jullaine
2 stemp green onions
50g peanuts crushed
4-5 spring fresh corianders leaves
Method
1. Put the lime juices, Chiles, Garlic Sugar & Peanut in a blender. Puree the mixture
2. Peel the papaya and remove the white seeds
3. Shred the papaya using a mandolin or a papaya shredder. Put the raw papaya in ice-cold water for half an hour. This will make it crisp.
4. Drain the papaya and combine the entire ingredients together in a serving bowl and toss well.
5. Garnish with fresh coriander leaf, brut chilly flakes and crust peanut; serve immediately.
#2 Asian Summer Salad
From Mamagoto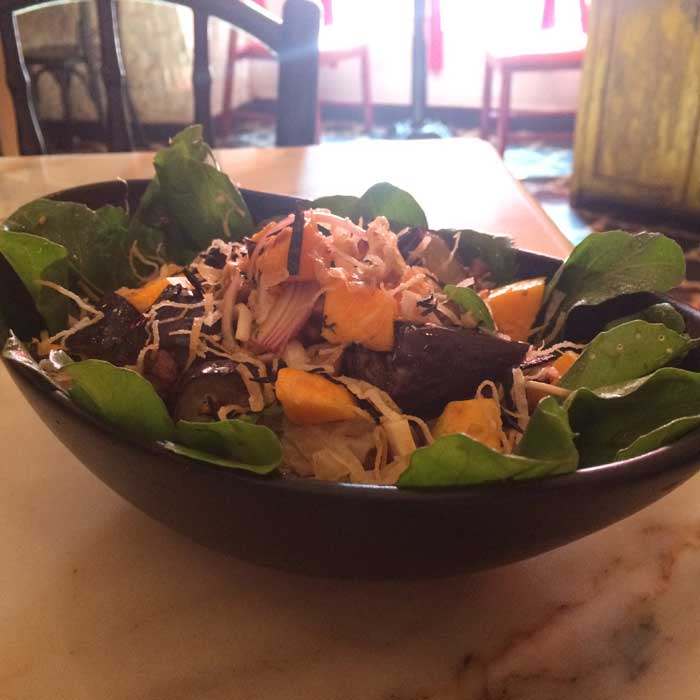 Asian Summer Salad
"Mamagoto's Asian Summer Salad has been specially crafted to beat the scorching heat that the summer season usually has in store for us. The flavors infused in the dish are fresh and fruity with a hint of spice, giving your palette the perfect punch to make it through the summer," says Janti Duggal Food Director, Mamagoto.
Recipe
Asian Summer Salad
Ingredients Quantity
Grill long eggplant 0.06kg
Mint leaf 0.005kg
Coriander leaf 0.005kg
Galangal Chop 0.01kg
Lemon Grass Chop 0.015kg
Lemon leaf Chop 0.005kg
Red Onion shredded 0.01kg
Ripe Mango Cut 0.06kg
Fresh Red Chilli 0,005kg
Grill white batam mushroom 0.01kg
Grill black mushroom 0.02kg
Dressing 0.08kg
Nuri Sheet 1/4 0.25kg
Wonton Sheet 0.002kg
Rocket leaf 0.02kg
Method
Mix all ingredients together, garnish with Nuri sheet, Wonton Sheet and Thai Herbs.
#3 Som Tam Salad 
From Dao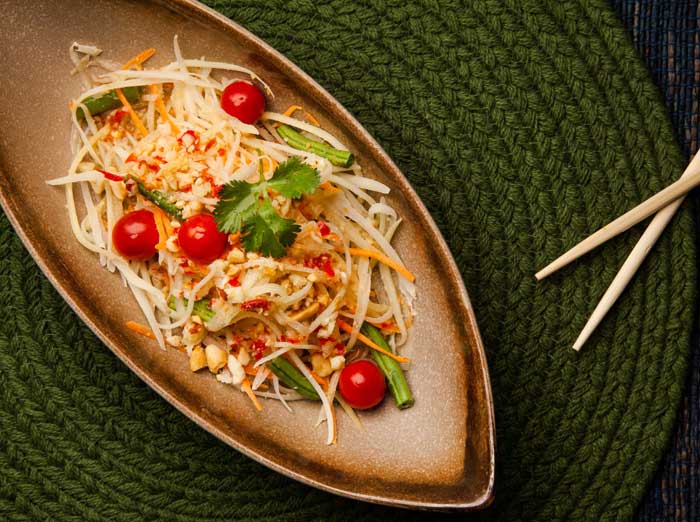 Som Tam Salad
"'Som Tam' in Thai, is a no-cooking refreshing, tangy and crunchy salad made from shredded unripe papaya. Raw papaya is chopped and mixed in with cherry tomatoes, long beans, crushed red chillies, garlic, crushed peanuts, sugar, salt water and a nice sprinkling of soya sauce & lemon juice. The sourness of the lime juice, the saltiness of the salt water, the heat from the chillies and the crunch from unripe, green papaya and long snake beans make this Thai salad just perfect for the summers. Som Tam Salad is packed with explosion of flavours and unforgettable textural wonders. It usually serves as an entree or as a side along with main dishes because of its sourness that opens up the appetite. It is great on its own in the month of summer." says Master Chef Kanchit Vongvichai, Dao.
Recipe
Method of Preparation:
* Peel and seed papaya and shred it. Put in a bowl.
* Crush garlic, then add long beans and tomatoes and pound a few times to release juices.
* Add the chillies and crush lightly to release the heat.
* In a separate cup dissolve the sugar in the lime juice, salt water and soya sauce.
* Add the crushed peanuts.
* Mix all ingredients together now and toss to mix.
* Serve in a shallow bowl and top with garnish.
#4 Caprese Our Way 
From TAMRA, Shangri-La's – Eros Hotel, New Delhi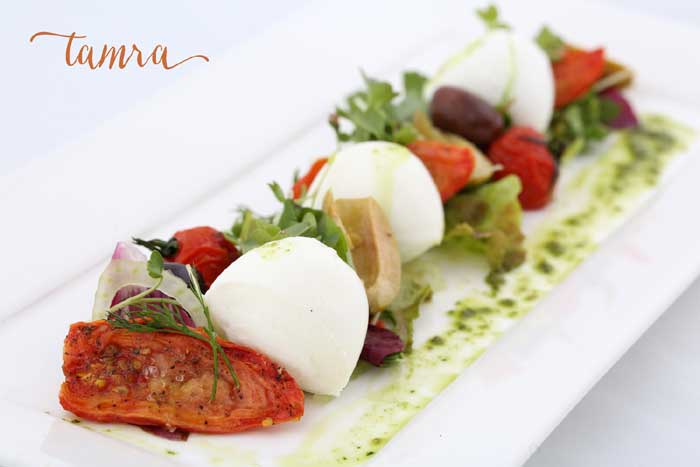 Caprese Our Way
"Caprese Our Way is one of Tamra's signature salad's specially crafted to beat the summer heat. The flavors are refreshing, light and playful on the palate making a perfect anti pasti for the indian summer," says Chef Sukantas Das.
Ingredients
Tomato Plum– 150gms
Tomato Cherry– 150gms
Sun Dried Tomato (Drain out of oil and cut) – 80gms
Buffalo Mozzarella (Slice at bottom) – 240gms
Fresh Basil – 20gms
Aragula / Rocket Leaves – 60gms
Dill Leaves– 40gms
Frisse– 40gms
Prezoise Olives – 25gms
Kalamata Olives – 25gms
Salt -2gms
Black Crushed Pepper – 2gms
Pine Nuts – 10gms
Extra Virgin Olive Oil – 10ml
Balsamic Vinegar – 30ml
Method
* Prepare all the herbs, as mentioned above.
* Pat dry on clean cloth or kitchen paper.
* Wash the tomatoes in chlorinated water and cut them into quarters.
* Grind the cherry tomatoes and herbs together to make a fine paste and apply the same on the quartered plum tomatoes. Leave the same to dry for 15 minutes.
* Cut the olives in half and keep aside.
* For the Pesto Dressing: Pestle-Basil leaves with pine nuts, olive oil, cheese and seasoning till it's a fine paste. Make sure the Pesto does not split by mixing it slowly.
* Arrange herbs at the center of the plate.
* Place Tomatoes and Arugula leaves at intervals along with the Olives and Mozzarella Cheese, finally drizzle the pesto vertically all over.
#5 Seaweed and Mesclun salad with Plum ume dressing
from Guppy By Ai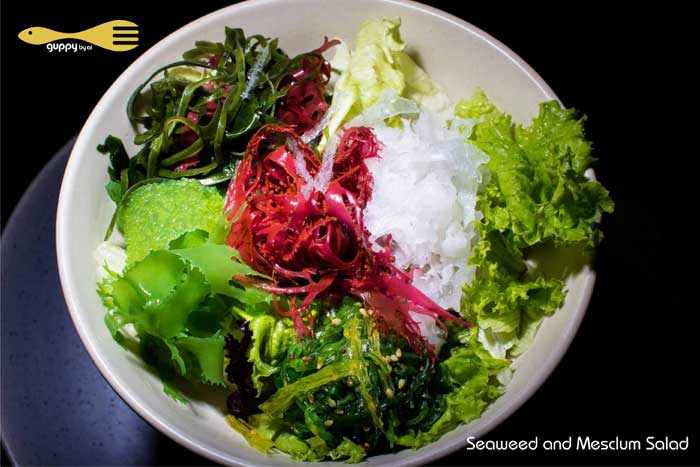 Seaweed and Mesclum salad
"Not everyone does well with a lot of seaweed in their diets and I typically think of it as a condiment. A salad full of seaweed with some plum sesame vinaigrette a few times this summer seems divine Vegan Health. Seaweeds are known to have a very broad range of minerals, antioxidants and anti-inflammatory properties. This fiber-rich food also seems to boost fat loss and  provide prebiotics for good gut bacteria. Wakame is best known for its high iodine content, better to get your iodine from this whole food than from processed salt with added iodine," says Chef Vikram Khatri – Executive Chef at Guppy By Ai.
Recipe
Seaweed and Mesclun salad with Plum ume dressing
Ingredients
80 Gms Assorted salad leaves
25 Gms Dry mixed Seaweed
5 gms Toasted sesame seeds
5 gms Toasted flax seeds
I Tsp Shredded Nori seaweed
Fresh Plum
Ingredients for Dressing
6 Tsp Extra virgin Sesame oil
2 Tsp Rice vinegar
1 Tsp Ume Plum , pitted and chopped
1 Tsp Mirin
½ Tsp Honey
½ Tsp light soy sauce
1 dash (1/8) white pepper
1 pinch (1/16) sea salt
Method 
Put the dry seaweed in a large bowl and fill it with cold water. If you like your seaweed crunchy, soak it for 5 minutes, if you like it more tender, soak it for 10 minutes.
To make the dressing, combine the Ume plum ,rice vinegar, sesame oil, soy sauce, mirin, salt and in a small bowl and whisk together.
Drain the seaweed and use your hands to squeeze out excess water. Wipe out any excess water in the bowl, and then return the seaweed along with Mesclun (assorted salad leaves), dressing and sesame seeds. Toss thoroughly to combine. Plate the salad and garnish with Flex seeds, shredded Nori and fresh plum.
["source-indianexpress"]