Thousands of Thai people have packed the streets of Bangkok to see a convoy carrying the body of King Bhumibol Adulyadej.
His body was taken through the capital to the royal palace as mourners wept and held up portraits of the late king.
Crown Prince Maha Vajiralongkorn has been named as successor, but has asked for a delay in the process.
The death of the world's longest-reigning monarch sparked an outpouring of grief in Thailand.
Official mourning will last a year. The cabinet declared Friday a government holiday, and flags are to fly at half-mast for the next 30 days.
People have been asked to wear black, and avoid "joyful events" during this period. Cinema screenings, concerts and sports events have been cancelled or postponed.
News websites have turned their pages black and white, and all television channels in Thailand are airing programmes about the king's life.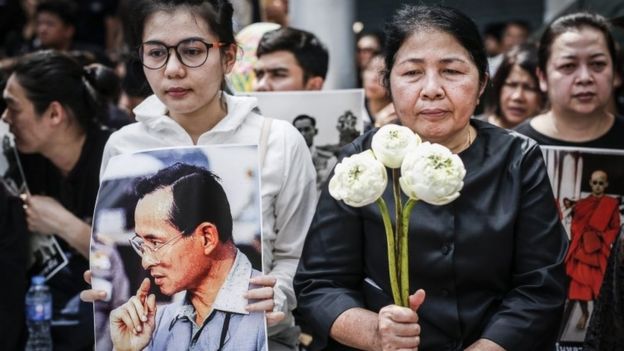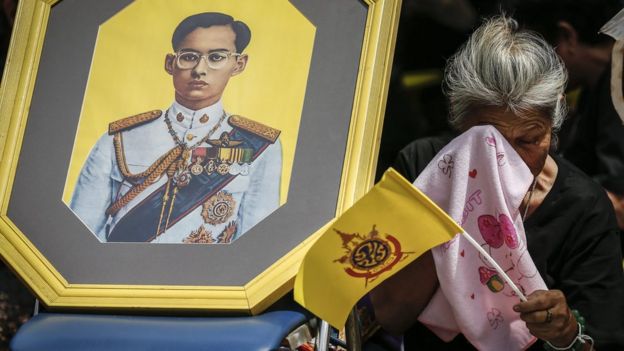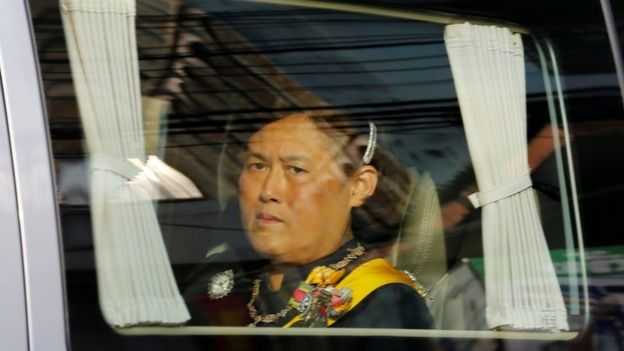 The crown prince travelled in the convoy carrying the king's body, which will lie at a temple in the royal palace while people pay their respects.
It could be months before the late king's cremation.
"This is the worst loss in my life," said one of those lining the streets.
Later on Friday, the Crown Prince conducted the bathing ceremony of the king's body, a traditional Thai Buddhist funeral rite.
Revered figure
The king had been ill for a long time. When news of his death was announced on Thursday evening, many in the large crowds outside the hospital where he died broke down.
King Bhumibol was widely respected across Thailand, and thought of by many as semi-divine.
He earned the devotion of Thais for his efforts to help the rural poor, such as agricultural development projects, and works of charity.