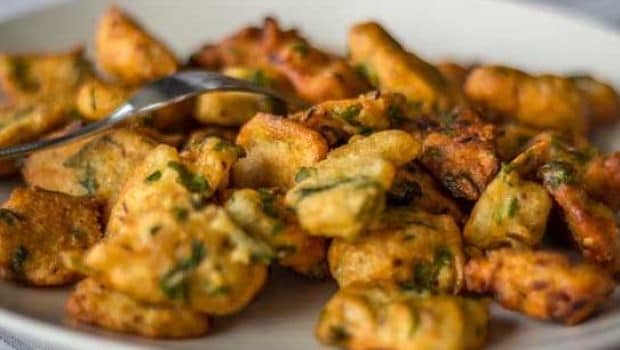 Who doesn't love crispy pakodas on a rainy day? Well, we all do. Our undying love for fried snacks is just beyond imagination and why not? They make for a great accompaniment with a piping hot cup of tea. Talk about pakodas, we all end up gorging on the same ol' pyaaz ka pakoda, aloo ka pakoda
or mirchi ka pakoda
, but have you ever thought of trying the delectably crispy cashew pakoda or Munthiri Puruppu Pakoda popular in Tamil Nadu? This rich delicacy is religiously gorged on as evening snacks with a cup of coffee in the state.
Cashew Nut Pakodas or Munthiri Puruppu Pakoda is a special dish from Tamil Naduand is believed to have originated from there. This variation of pakodas may not be very old and is said to have been invented only to create an interesting variety of fritters apart from the ones we usually eat. According to Food Blogger Nithya Ravi, "Cashew Nut Pakodas are popularly eaten in Tamil Nadu and are made with besan and rice flour to add crispiness, chilli sauce, green chillies and curry leaves, and then deep fried in oil. Cashew Nut Pakodas are very crisp as compared to other pakodas like Mirchi Bajji, majorly because the batter does not have a lot of water. The batter has to be very thick in order to make them crunchy. You can store these pakodas for one or two days in an air tight container."
Tips to Make Perfect Cashew Pakodas
You can also add other vegetables like cauliflower in Cashew Nut Pakodas to enhance the taste. The addition of mint leaves makes them even more flavourful.
A good way to make these pakodas crispy is to keep the batter thick. Excess water will make them gooey, so it shouldn't be runny.
If you wish to store the pakodas for about 1-2 days, store them in a dry place.
Avoid onions and other ingredients like vegetables, ginger and chillies to ensure their longevity.
If you wish to make cashew pakodas at home, we have brought you a slightly twisted yet unique recipe that you would love to devour. Follow Cashew Nut and Cauliflower recipe
["source=food.ndtv"]