I can't tell you how little I wanted to like Breddos. The new taqueria in Clerkenwell has the restaurant version of a punchable face.
It is tiny, one step up from the shack in a car park that was its original incarnation.
Most of the seats – sorry, stools, no chairs with backs in these parts – are around a large communal table or crammed against the edges of the room. The single loo opens more or less directly onto the eating area.
When you arrive you are told there's a wait of an hour and asked politely to go to the pub round the corner. The staff are young, multinational and insistently cool in the way that makes you cast a critical eye on your own coolness, even if it's not something you habitually worry about.
It's like, I don't know, going to a sock convention.
Most alarmingly, Breddos sells tacos, which have been designated 2017's Official Trendy Food. Besides Breddos, there is Corazon on Poland Street, El Pastor in Borough and most extravagant of all, Neil Rankin's Temper, a vast smokey subterranean temple to tacos.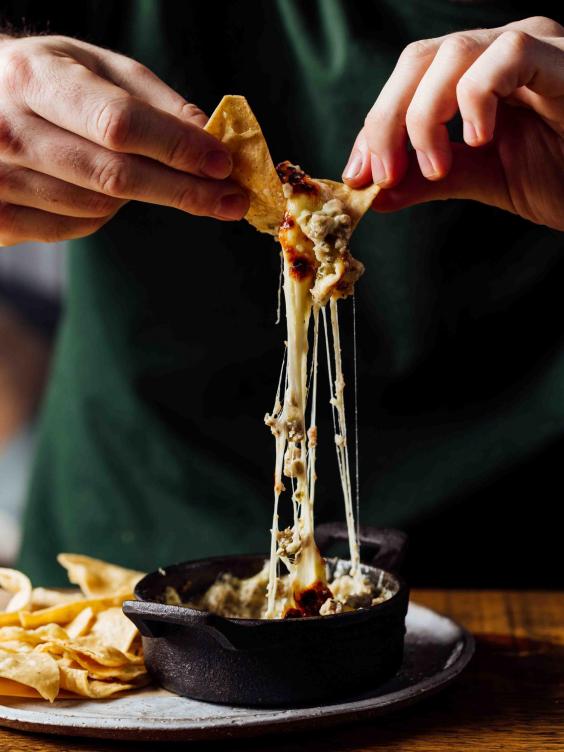 As with many of these trends – cauliflower, ramen, warm avocado – the British culinary mindset has not quite caught up with tacos. Or at least mine hasn't.
Not having been to Mexico, and despite a recent improvement in British Mexican restaurants, I find it hard not to think of those crispy, lurid yellow half-shells, sheltering in El Paso boxes at the back of the cupboard, waiting for an apocalypse that they would surely survive.
But this year tacos – real ones – are apparently quite the thing. Even continuing to associate them with Mexico is a bit of a no-no, or as you'd say in Spanish: a "no-no."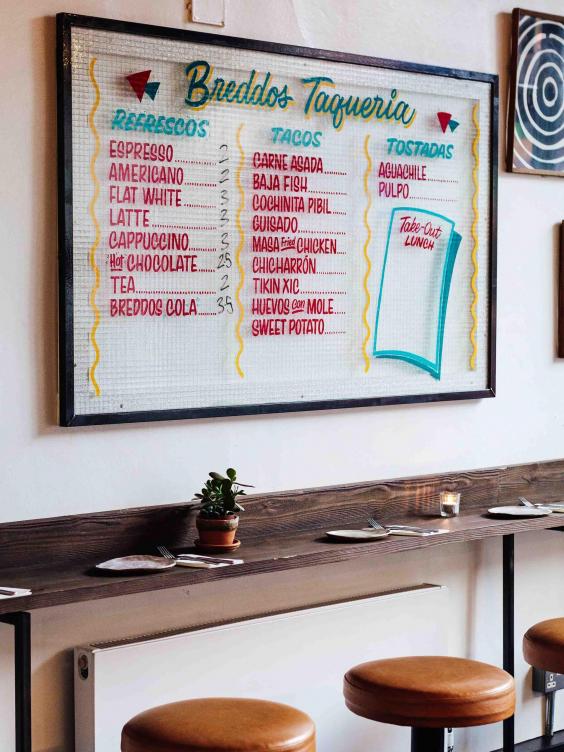 Completely insufferable, isn't it? All I wanted was to go, exaggerate what a bad time I'd had, and sneeringly lay the place on the canvas. But, ugh, it's complicated.
They call you on your mobile when your table's ready, so you can finish your pint and trot round the corner to be ushered straight to your seats. Hardly inhumane. A bowl of tortilla chips is laid down in front of you with two salsas, one of eye-watering piquancy but a rich of flavour. The menu is short, simple and, annoyingly for the purposes of this review, extremely tasty, even if the flavours do not stick entirely to the Mexican book.
The dishes are brought out fast, each topping piled onto its taco tray. A generous heap of tuna, singing with lime and coriander and other flavours – soy?; roasted beef, kung pao pork with sichuan pepper, baja fish, smoked sweet potato.
Beneath such deafening flavours, the tortillas themselves can hardly hope to be heard, and are experienced mainly as a texture. But I'd have them all againBrunch on Saturday: Decadent duck and blueberry porridge
Just as we began to forget it was possible to eat food except off a 12cm edible tray, out came a huge chop, Iberico pork al pastor, a hot salty slab framed in fat nearly the same white as the meat.
We left £60 lighter. Not bad for dinner for two in Clerkenwell, but perhaps quite a lot for tacos, and it could easily have been worse if we'd had more than a margarita each. There is a pool of mezcals in which you could swim long and deep.
Still, sometimes what looks like a fad is simply innovation. It's not the most comfortable space, and it's not for anyone whose January vegetable kick hasn't worn off. But Breddos is young, energetic and run with love, and there's no amount of cynicism that can't be crushed with enough pork.
[Source:-The Independent]