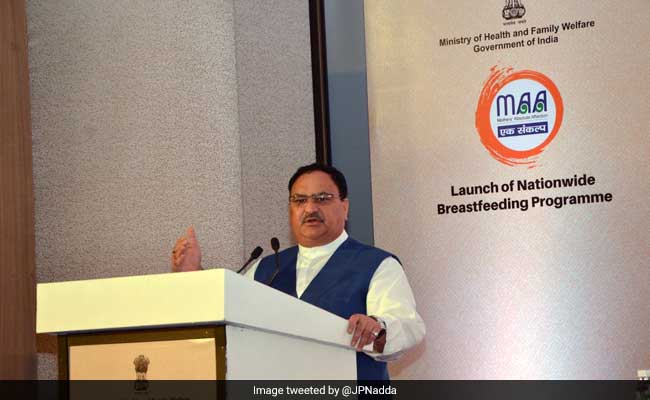 NEW DELHI: What was natural has been made unnatural by market forces, Union Health Minister J P Nadda today said as he launched nationwide breast feeding programme "MAA-Mother's Absolute Affection" aimed at promoting the practice among mothers.
Mr Nadda, whose remark came as a veiled attack on the supplementary products for babies which has flooded the markets, launched the programme at a glittering ceremony with Bollywood actress Madhuri Dixit also present as its celebrity brand ambassador.
Minister of State for Health Anupriya Patel and Faggan Singh Kulaste along with senior health ministry officials including Health Secretary C K Mishra were present during the function.
"One thing amuses me which is very strange. Right from the time humanity came into existence, what was natural, market forces made it unnatural. Look at the dilemma. Now we have to do a breast feeding campaign.
"You talk about urban, rural, educated or uneducated mothers, everywhere we have to do this campaign and tell them about advantages of breast feeding. These things are now to be told. The lesson is we should not be driven by market forces.
We should take forward whatever is natural," he said.
 He said the programme is a very cost effective and significant health intervention along with deworming programme. He said that the breastfeeding programme will greatly help to reduce the under five mortality of children.
He said that all the national health indicators like Infant Mortality Rate (IMR), Maternal Maternity Rate (MMR), Total Fertility Rate (TFR) and under five mortality are declining faster in Indian than the world pace.
He said that guidelines will be prepared by his Ministry on how to reach the grassroot levels and what issues needs to be taken care of.
As per available data sets, around 20 per cent newborn deaths and 13 per cent under-five deaths can be prevented by breastfeeding.
For the MAA programme, a total of Rs. 30 crores has been allocated while each district will be allotted Rs. 4.3 lakh for implementing the various activities under it.
[Source  NDTV]