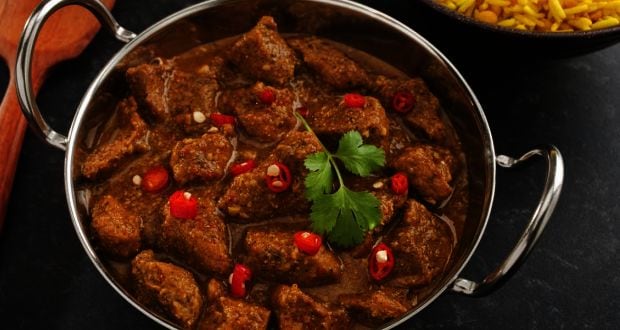 Ask any Goan or those who are familiar with Goa and they would tell you that Goa is so much more than gorgeous beaches, vibrant beach shacks, enigmatic pubs and party scenes. An erstwhile Portuguese colony, Goa has successfully managed to retain its vintage glory through architecture (tall churches, quaint streets, picturesque buildings), as well as local customs and food. The Portuguese influence is more prominently seen in the local cuisines, one such dish being the Vindaloo. Introduced to the Indian shores by the Portuguese colonists, the Vindaloo curry now stands tall amongst all Indian curries because of it characteristic spiciness. The curry is made with a spicy roasted mixture (masala) called the Vindaloo masala or paste. Traditionally, Vindaloo was exclusively associated with pork meat but now you can find chicken, mutton, fish and vegetarian versions of the curry as well.
MasterChef India 2016 contestant Chef Sadaf Hussain says, "The word Vindaloo is a jumbled pronunciation of the Portuguese dish Carne de Vinha d'alhos (meat marinated in wine-vinegar and garlic), which got introduced to Indians in the 15th century by Portuguese explorers. The dish got tweaked to meet the local conditions: there was no wine-vinegar in India, hence it got replaced by palm wine. Locally produced ingredients like tamarind, black pepper, cinnamon, and cardamom were also incorporated. And most importantly the addition of chilli peppers, which is a legacy of Portugal's global empire."
He adds, " An authentic version of Vindaloo which I learnt in Goa included dry roasted spices like black peppercorns, white peppercorns, cloves, coriander seeds, mustard seeds
, fennel seeds, dried red chillies and garlic cloves ground to a paste along with ginger, vinegar, tomato puree, tamarind paste/pulp, fresh hot red chilli peppers, salt and vegetable oil. I believe the secret to this recipe is the intense pungent heat coming from the cloves."
If you love your food spicy enough to make your brows sweat, this Goan delicacy would not disappoint.
All you need to do is to get the masala right. You can replace or substitute a few ingredients too. People generally tend to use cumin seeds or fenugreek seeds, cloves, red chillies, chopped ginger, garlic and salt.
Roast the ingredients that you are using in an open pan and then grind them together into masala. You can also mix the roasted ingredients in a food processor. Next, if you want to make the Vindaloo masala into a smooth and finer paste, add a tablespoon of vinegar as you grind the ingredients.
Here's a spicy Pork Vindaloo recipe by Chef Rishika Avasthi  you can try cooking at home. You can also substitute the meat with chicken or lamb.
Ingredients of Pork Vindaloo:
• 1 kg pork-cubed into desired pieces
• 6 red Goa/Andhra/kashmiri chillies, soaked in 1/2cup vinegar for 2 hours
• 2 Tbsp ginger, chopped
• 2 Tbsp garlic, peeled and chopped
• 2 Tbsp cumin seeds
• 3 Tbsp oil
• 250 gm button onions-peeled
• 1 tsp salt or to taste
• 2 Tbsp gur-powdered
Method:
1. Grind the chillies, ginger, garlic and cumin to a fine paste.
2. Mix the pork into the masala.
3. Heat the oil and add the pork mixture and stir-fry over high heat for 5 minutes.
4. Add the onions and simmer till meat is tender.
5. Add the gur, mix well and serve hot.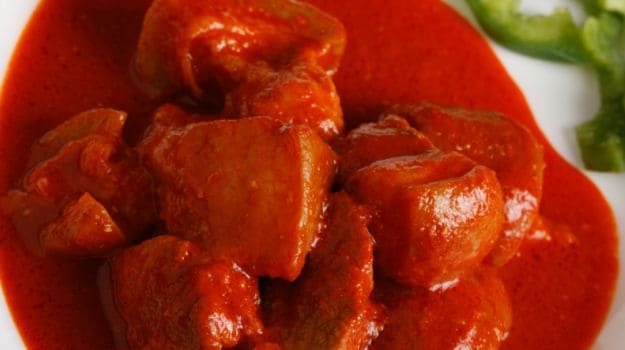 This lip-smacking meat curry is sure to stand out in your diner spread with all its rich flavour and spices.
["source-food.ndtv"]