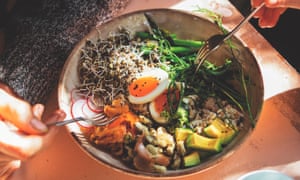 We believe in really experiencing our food – growing our own vegetables, gathering from the wild, sourcing produce from local farmers and making big, beautiful meals with all that we have found – and these are such joyful experiences for us.
But what makes them even better is doing them with other people. Growing, gathering, preserving, pickling, cooking and eating are all so much better when shared with your village. In fact, most of the experiences that life has to offer are better when shared with the people you love! It's the sharing that makes these experiences matter, that gives them meaning and brings about feelings of happiness and belonging.
These are the kind of feelings that truly nourish us. They are about food, but beyond food also. They do something for your soul. Like when you share a big, beautiful, fresh meal with friends, with a warm fire in the corner and the dog on the couch. Or when you go to a friend's house and they anticipate your needs, greeting you with a freshly-baked cake, a hot pot of coffee and a salad from their garden. When you sit with family, laughing, arguing and sharing a meal. Or when you are so tired and someone makes you a wholesome, home-cooked meal, a cup of tea, and tucks you into bed.
It's the feeling you get when someone welcomes you as their own, feeds you as though they have known and loved you forever and it's as if they grew their whole garden just to nourish you. That feeling. It's a feeling that sits somewhere deep within your heart.
And it's a feeling that might be so much more important than we previously thought. Studies now show that when we feel safe and nurtured, when we have abundance and security (as compared to feeling like our resources are scarce and the future is uncertain), our brains function the equivalent of 14 IQ points higher! Having a village support system contributes massively to feeling safe and secure. Because a loving village brings meaning to one's life, creating strong bonds and a security in knowing that there are others around who will "catch" you if you find yourself with little food or money. In a loving village, there is always abundance to share.
No matter who makes up your village, sharing life with loved ones has been shown, time and time again, to have a more extraordinary impact on longevity than so many other factors that you'd think would just have to have a greater effect. It's been shown to be more powerful than maintaining a healthy weight, than living among a pristine environment, than avoiding substance abuse, than having access to healthcare – the list goes on.
In fact, after accounting for all the multitude of variables from one person's life circumstances to the next, people who consider themselves to have strong connections with others can expect to live at least 26% longer than those who don't. So the need for all of us to seek out a village, our village, is one of the most crucial things not only for our health, but also to live a life that is long, happy and full of meaning.
The village that surrounds you will be different from ours, different for every person – and we often have several "villages", or communities, that are important to us. Whatever the case, surround yourself with the people who fit your idea of the village. People who make you feel as though you aren't just anyone, but you are the whole world. People who make your soul feel full, as though you've just received the warmest hug in the world. People who are your people, who make you feel complete and that you fit. Embrace these people – they are your village.
Matt's winter/spring breakfast bowl
All winter and spring, I am all about brassica shoots – the flower buds of broccoli, cabbage, cauliflower, mustard greens, radish, turnip, kohlrabi and brussels sprouts. They are so diversely colourful and flavourful, and are so easy to cook (and are often found growing wild). They just tick all the boxes for me for fun garden food.
Upland cress is also right up there with brassica shoots. It's the most nutrient-dense green per calorie, plus it protects our brassicas from white cabbage butterfly grubs, so we always plant them together. This is my perfect breakfast bowl for these seasons, utilising what's thriving in the garden, what's readily abundant in the fridge and some tasty pickles to sharpen it all into focus. Make it yours.
2 eggs
extra-virgin olive oil
a pinch of poppy seeds
a pinch of chilli flakes
a handful of brassica shoots
a handful of upland cress
a pinch of unrefined salt
1 cup leftover cooked gluten-free grains (brown rice, quinoa, millet etc.) (see note)
1⁄2 avocado, sliced
a spoonful of kimchi
a spoonful of pickled broad beans
1 radish, finely sliced
a small handful of sprouts
a pinch of black sesame seeds
Bring a small saucepan of water to the boil. Using a spoon, gently lower the eggs right to the bottom of the pan (to avoid cracking) and gently boil for exactly 6 minutes. Remove from the pan immediately, refresh under cold water, then peel and halve. The eggs should be perfectly soft-set. Set aside.
Meanwhile, add a very generous (I mean very generous) splash of oil to a medium, heavy-based frying pan over medium heat. Add the poppy seeds and chilli and fry for 1 minute, taking care not to burn them. Add the brassica shoots, cress and salt (beware of spitting – you might want to cover the pan for a moment) and fry for 1–2 minutes until just softened and the colour has brightened nicely. Transfer to a bowl and set aside.
Add the grains to the pan and stir to soak up all the oil. Cover, turn off the heat and leave for a minute to warm through just from the heat of the pan, then transfer to a serving bowl.
Add eggs, greens and remaining ingredients to the bowl any way you like and feast!
Note: If you don't have any leftover grains, place 1 cup of white rice and 1 1⁄2 cups of water in a small–medium saucepan, cover and bring to the boil. Reduce to a simmer and cook for 15 minutes.
["source=TimeOFIndia"]