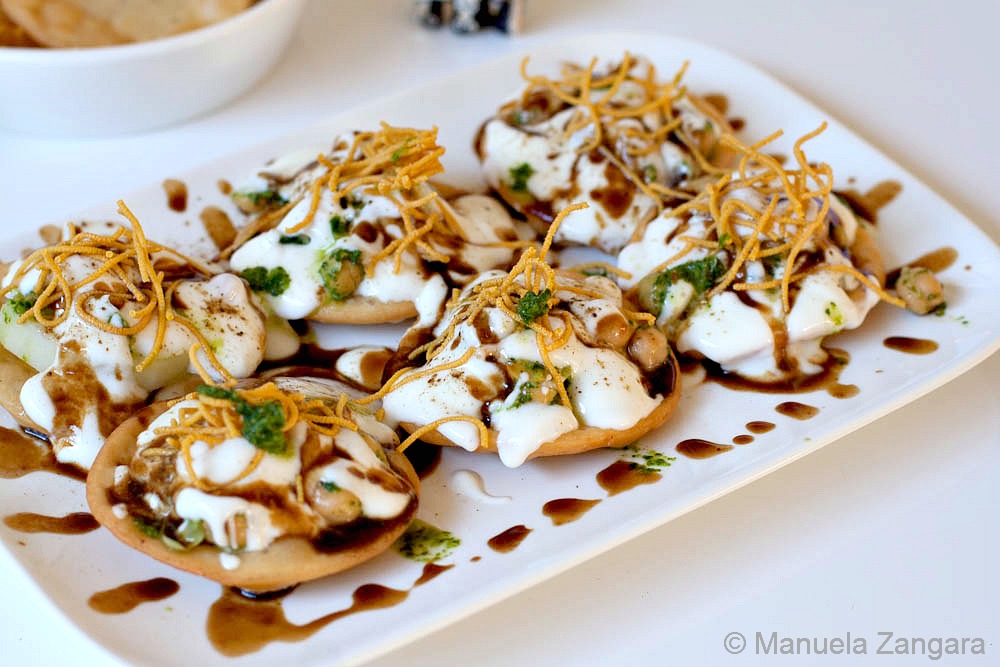 Summers are at its peak, so tikki chaat and samosa, kachori have obviously taken a back seat. Stomach problems abound, it is not advisable to eat roadside chaat. So the best thing you can do, if the craving to have a delicious chaat sets in, is to make Paapri Chaat at home.
Paapri Chaat
Ingredients
Small Papdi – 1 bowl (fried)
Urad Dal Pakodi – 1 bowl (fried)
Kabuli Channa – 1 bowl (boiled)
Potato – 2 bowls (boiled)
Curd – 500 gms
Salt – 1/2 tea spoon or according to the taste
Roasted Cumin Seeds – 2 tea spoon
Chat Masala – 1 tea spoon
Sweet Chutney – 1 small bowl
Green Chutney – 1 small bowl
Coriander leaves – 2 table spoon
Method
* Take 100 gms maida and knead it like we do to make mathari. Divide the dough into 2 parts and make balls from it. Roll these balls like a chapati and cut it into 3 cms. Cut round shapes with the help of a pan or a bowl which have sharp corners. If you want to you can also make small balls and roll it like a mathari.
* Make 5-6 holes in the mathari with knife and fry till they are brown, in the same manner as we make mathari.
* Making urad dal pakodi: Wash the urad dal and soak it for 2 hours in the water. Strain the water and grind it in the mixer. Make a batter suitable to make a pakodi. Now take small portion of the batter in your hands and fry them in the oil till they turn brown in colour. Make pakodi in the same way as we make Dahi Vada.
* Dip the urad dal pakodi in warm water and strain the excess water. Cut the potatoes into small pieces.
* Whisk the curd and put salt and roasted cumin powder into it.
* Take a glass bowl and a broad pan. Put papdi, pakodi, channa and potato into the tray.
* Pour the curd mixture over the papdi, pakori, channa and potato in the tray. Now put sweet chutney and green chutney over the papdi and other ingredients in the tray. Sprinkle some chat masala and garnish with coriander leaves.
* Your Papdi Chat is ready.
["source-indianexpress"]