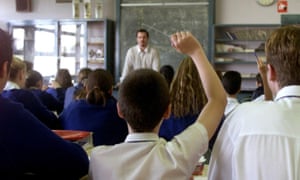 Spending on education in Australia has increased yet standards have stagnated, because data is not being used effectively to improve student outcomes, according to the Productivity Commission.
The federal government's economic policy adviser said data collected across Australia's school systems needed to be used not only to monitor performance but officials need to go the extra step of using the evidence to developing more effective programs, policies and teaching practices.
"There has been a 14% increase in spending per student over the last 10 years, yet student performance remains broadly unchanged and, in some areas, has actually decreased," says Jonathan Coppel of the Productivity Commission.
"Resources, performance monitoring and competition between schools alone, although important, are insufficient to achieve gains in education outcomes."
The comments from Coppel come with the release of a new draft report about the national education evidence base, which was commissioned by the Turnbull government in March.
The thrust of the Productivity Commission's new work will doubtless be picked up by the government, which has argued that additional funding of the education sector is not a magic bullet when it comes to school performance.
Labor, by contrast, has dug in behind the Gonski education reforms, criticising the government for cutting funding by $29bn.
The report cited a "growing consensus" that increased funding and accountability mechanisms "are insufficient to achieve gains in education outcomes".
"Adopting and applying an evidence-based approach to education policy and teaching practices is what drives a better allocation of resources and improved outcomes," it said.
The new report recommends that governments take "a shared approach to developing a high-quality and relevant national education evidence base" – and it calls for a new education agreement defining specific objectives and assigning an institution to monitor successful implementation.
The report also recommended privacy protections be significantly overhauled to enable better data-sharing between jurisdictions and it said a national, unique or universal student identifier – first flagged as a policy option in 2009 – could assist in tracking the outcomes of individual children and young people over time as well as across jurisdictions and between government and non-government schools.
It recommended the federal government extend the arrangements relating to the collection, use or disclosure of personal information without consent in the area of health and medical research to cover public interest research – including education research.
It also said new policy guidelines should apply that place the onus on data custodians to share data unless a privacy or other exception can be justified.
The report found the largest data gap in education was "the evaluation of policies, programs and teaching practices in Australian schools and early childhood education" identifying what works best, for whom and in what circumstances.
The report warns that "without improving and applying evidence to policymaking and teaching in schools and classrooms, there is a substantial risk that increased resourcing of schools will continue to deliver disappointing outcomes".
Coppel said teachers had been shown to have the greatest impact on the performance of their students "after accounting for the characteristics of students themselves".
"Looking within the classroom, particularly teaching practices, is thus paramount to improving education outcomes across all schools and all students," Coppel said.
"We also know there are some schools whose students perform better than expected compared with similar schools. We should be lifting the bonnet on these schools to find out what they are doing and carefully evaluating if we can apply their methods across schools."
[Source:-The Guardian]