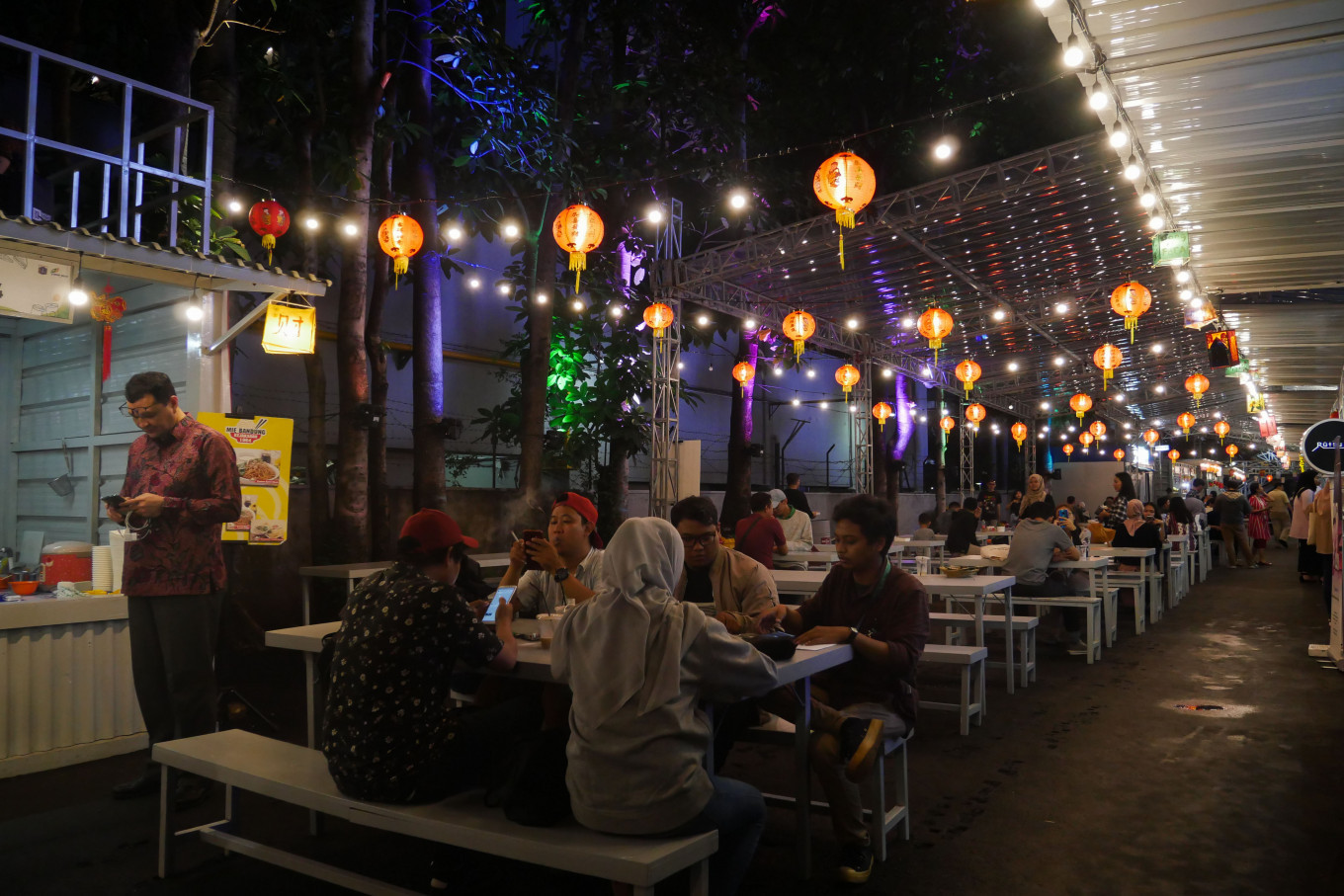 Visitors enjoy the delicacies at Thamrin 10 Food and Creative Park at Menteng district, Central Jakarta, on Friday evening, January. 24, 2020. The park is decorated with rows of Chinese lanterns in celebration of Chinese New Year. (JP/Yunindita Prasidya)
Like any other big Asian city, Jakarta has an array of tasty and cheap food choices, be they on the street or from small and micro enterprises opening their business at home. And millions of residents, especially workers, rely on this informal sector for their daily intake of nutrition.
The latest initiative by the Jakarta administration and city-owned market operator PD Pasar Jaya, Thamrin 10, serves as a reminder that if given a decent space in a great location, street food vendors can not only better serve customers and improve their hygiene standards, but also keep their prices lower than those in restaurants.
There are 54 street vendors and seven food trucks in Thamrin 10 in Menteng in Central Jakarta. Once an 8,000-square-meter parking lot, the city has transformed it into a bustling space for Jakartans to find cheap eats in a business district and for small and micro enterprises to open for business without the fear of eviction.
The city also has a new plan to revitalize Jl. Sabang, a long-time culinary center in Central Jakarta. Although some food entrepreneurs are worried about the new rents, they are hopeful that the plan will help improve their business.
Last year, the Indonesian Solidarity Party (PSI) and Jakarta Pedestrians Coalition demanded the Jakarta administration clear sidewalks of street vendors. They want sidewalks to be exclusively for the use of pedestrians.
However, if the city administration agrees to this demand, Jakarta needs to ensure that Jakarta's white- and blue-collar workers still have easy access to affordable food and the small and micro entrepreneurs still have access to earning a livelihood. Witness the daily lunch hour — the food courts at malls are not as bustling as the alleys in office areas that house a multitude of food carts all day.
Jakarta — both the administration and the private sector — has ample experience of creating affordable culinary centers by embracing the informal sector. Lenggang Jakarta at the National Monument is one example and the Metropole Food Court in Cikini is another. The Blok S food center in South Jakarta and street vendors behind office buildings along Jl. HR Rasuna Said in South Jakarta are also other examples.
These have all embraced the original sellers in the area and improved their service with training and facilities like running water for the benefit of both customers and the businesspeople themselves.
As one customer of Thamrin 10 said in our report, she and her friends went there because she was bored with malls and sought a different experience.
Indonesia's cities must shed the image of the past; when vendors ran helter-skelter during raids by baton-wielding public order officers, while they claimed to have actually paid various fees to officials such as for monthly security and even electricity bills.
Today's city inhabitants no longer accept the old paradigm that street vendors and entertainers are an eyesore and deserve to be punished for illegal use of the sidewalks — while bureaucrats and security officers, including the police, pocket sizable, regular income from the informal economy that today employs many more people than the formal sector.
["source=thejakartapost"]