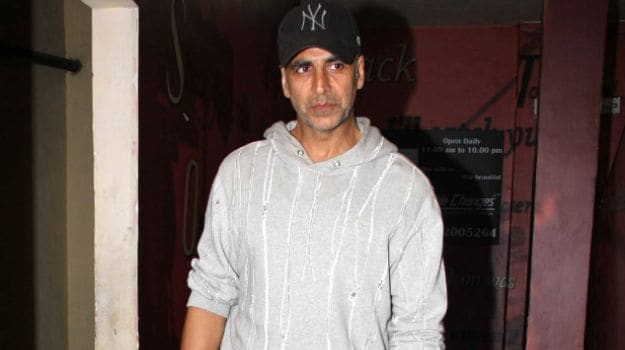 If there's one actor who's getting better with age, it's Akshay Kumar. He is, arguably, the fittest Bollywood star and a source of inspiration for many. He is one of the few actors for whom fitness is a way of life. How does he do it? Let's find out.
A martial arts expert and the 'Khiladi' of Bollywood, Akshay Kumar has been professionally trained in Taekwondo and Muay Thai. He is a black belt in Taekwondo and learnt Muay Thai in Thailand where he worked as a chef before beginning his successful acting career in India.
There's nothing that your body loves more than a goodnight's rest and an early start. A day in the life of Akshay Kumar starts as early as 5.30 in the morning. His day ends early too, no partying for this superstar. After an early dinner at around 7.30 pm, he's in bed by 9 pm. "I love my sleep and I love to see the mornings. People who invite me to a party know that I will leave early because I have to be in bed. And let me tell you, I hate night shifts," he says. A disciplined lifestyle, good workout routine and a balanced diet is his mantra to stay in shape.
No weights, no trainer
In today's times, when most men seem to be obsessed with muscles or abs, Akshay's fitness rules are simple. Fitness comes from keeping your body active and there are different ways to do so without hitting the gym. He is heavily into kick-boxing and shadow-boxing. He also practices parkour, yoga for a strong mind and other sports like basketball and enjoys trekking. "Take out at least one hour every day to exercise, in any form. If you can't exercise, just go for a walk for an hour," he advises.
His routine is fun, keeps the body and mind stable and is not bound to building muscles in the gym. In fact, he doesn't pick up weights at all. Instead, he feels it's best to pick up your own body weight by engaging in rocking climbing, hiking, skipping or swinging. He swims for an hour every morning and then practices martial arts for an hour, followed by yoga and stretching exercises and finally ends his workout by meditating for an hour for peace and mental strength. He works out 5 to 6 times in a week.
Now, here's a secret you may have not known, Akshay Kumar loves water workouts. "During summers, I love working out by the poolside and I even practice kicks or punches in the water. During winters, I mostly do parkour," he confesses in one of his interviews.

Natural therapy
He proudly admits that even after 32 years of working out, he still doesn't have more than 4 or 6 abs. He has never resorted to any short cuts to build his body, like supplements, powders or shakes. He is of the belief that gyms can help you build stamina but in order to maintain physically fit, it's best to build your body naturally. His motto is simple, 'Health matters most.' He avoids alcohol, smoking, nicotine and caffeine in any form and even coffee or tea. He believes in having a balanced diet and eating the way our ancestors ate. "Whatever your mother makes at home, is the best", he will tell you.
Homemade food is the best
"I never diet", he proclaims, "Eat everything but eat at the right time." Akshay is known to finish his dinner by 7pm and there's a scientific reason to it.  According to Ayurveda, you should eat at least 2 to 3 hours before heading to sleep because your body needs that much time to digest the food. If you eat close to your sleeping time, your digestive processes keep going on, leaving you restless when in bed.

"If you feel hungry after 7pm, eat an egg white omelette or soup or something that is easy to digest. If I have to go out for dinner, I only eat proteins and try to avoid carbs. I eat anything my mother gives me, whether it is haldi doodh or warm water with honey for a bad throat." he said in one of his interviews.
He starts his day with a heavy meal of parathas and a glass of milk followed by fresh fruits and nuts for snacks. Lunch is a balanced meal of lentils, brown rice, wholesome veggies or lean meat and yogurt. The last meal of the day is a light combination of soupand sautéed vegetables. His tip to avoid unwanted cravings through the day – "Eat every three hours but eat healthy."
The secret to Akshay Kumar's fabulously fit body is out and it's fairly easy to follow. "You don't have to be obsessed with exercising or dieting, the most important thing is to maintain a balanced and active lifestyle," Well said Akshay, well said!

[Source  NDTV]