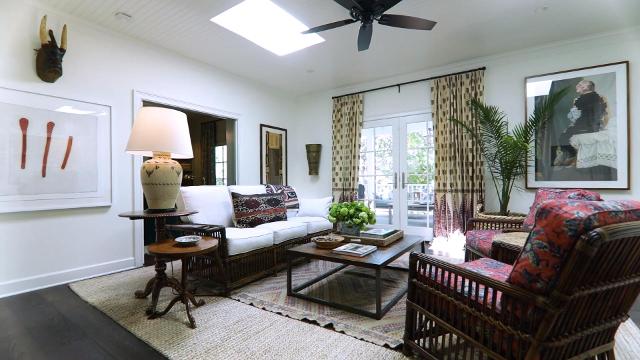 The reality is that there are ways to make your house look more beautiful both inside and out. You just have to be willing to put forth an extra effort if you wish to accomplish this goal. It will take you investing some additional time and money into your property and figuring out which projects are top priorities for you.
This is your opportunity to fall back in love with your house again and truly make it feel more homey and luxurious. Take your time and do it the right way, so you're pleased with the results and don't have any regrets at the end of the day.
1.    Decorate
It's possible your home isn't as lovely as it could be because you haven't bothered to pull each of your rooms together with a little décor. You can make your home look more beautiful inside and out by spending some time decorating it. This includes buying nice furniture, hanging colorful artwork and placing out items you believe will enhance the overall ambiance of each room in your home. If you're after a fresh vibe to flow throughout your house, adding flowers and plants in every room will not only make it feel livelier but also make it smell fantastic.
2.    Upgrade the Landscaping
One way to improve the look of your home is to upgrade the landscaping. Even if you live someplace warm and humid such as Florida, there are practical ways to create a striking and eye-catching outdoor oasis. Research landscaping ideas to get a better idea of what solutions you may want to implement before you commit to a certain design. Planting colorful flowers and water elements will quickly turn a drab outside area into a beautiful and serene atmosphere, for example.
3.    Clean & Declutter
 A messy and dirty home is never going to be viewed as beautiful, so it's a good idea to start by cleaning and to declutter your space. You can make your house look more presentable and attractive by getting rid of or donating what you no longer need or use and picking up often and getting organized. It's also wise to perform a deep clean on the inside of your house and attend to the weeds and lawn if you wish to maintain a nice-looking property.
4.    Paint
Never underestimate the ability of a fresh coat of paint to transform a room or the exterior of your home. Do your homework and review the list of colors that are in demand so that you choose a hue that's in style and you'll enjoy for years to come. This is also a great way to make a small room appear larger or bring some color into an otherwise dreary space. Painting is an excellent DIY project to take on yourself as a way to spend your weekend and save yourself some money as well.
5.    Install A Backsplash
You can make your home look more beautiful inside and out by installing a stunning backsplash. Think about doing so in your kitchen as well as in your bathrooms to create a more attractive space. There are many different colors, styles, and designs to choose from so take your time looking over your options before selecting a particular choice. You can also opt to decorate an entire wall with it, or you can decide that you only want to install a stripe above the sink, for instance. This is a decorative embellishment that may seem small but actually will have a big impact in the areas where you choose to install it.
6.    Take Care of Your Garage
Updating and maintaining your garage may not be your first project of choice, but it's an important one. You also have the opportunity to make your home look more beautiful by taking good care of your garage both inside and out. Set aside time to organize and declutter your belongings, so you're not embarrassed to have your garage doors up for others to see in and consider installing a trendier or more modern garage door. Think about adding windows to draw in more natural light or replacing old hardware with more current options while you're at it as well.
7.    Spruce up Your Front Porch & Entryway
First impressions matter when it comes to your home, and as a result, you should pay extra attention to your front porch area and the entryway. You can decorate your front porch with furniture, lights and a welcome mat to make your house appear more charming from the exterior. Also, people will automatically start to make judgments about your space and home from the minute they step foot in your house. Sprucing up the entryway is your chance to impress them and make them feel welcome in your home. For example, keep it organized with cubbies and shelving and add a small table with decorative items that catch your eye.
8.    Add Area Rugs
Lastly, make your home look more beautiful both inside and out by adding area rugs throughout your home. This is a great way to add a pop of color to your space and warm up cold floors. If you're someone who has hardwood all over your house, then you'll especially want to consider this tip in helping to make your home look more attractive and cozy. They come in all shapes and sizes, so there's an option out there for any homeowner no matter your personal taste and style. The added texture will also help to beautify your home and create a more stylish look and feel.
Conclusion
Having a more beautiful home doesn't happen all on its own. It takes you, the homeowner, wanting to go the extra mile to make it appear more put together and elegant. These tips are going to help you achieve this goal so you can enjoy your space more and aren't embarrassed to bring people through your house. Have fun implementing these projects and don't forget to sit back and enjoy all your efforts and updates when you're finished.